This contest is over. Click here to view the winners!
Contest Rules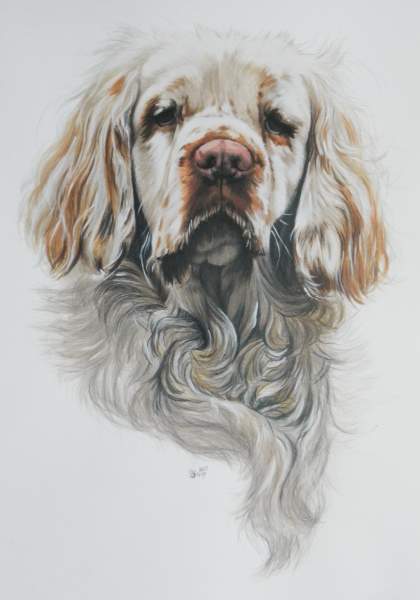 Please check the breeds below:

The ACCEPTABLE breeds according to the AKC are as follows:
American Water Spaniel, Boykin Spaniel, Brittany, Chesapeake Bay Retriever, Clumber Spaniel, Cocker Spaniel, Curly-Coated Retriever, English Cocker Spaniel, English Setter, English Springer Spaniel, Field Spaniel, Flat-Coated Retriever, German Shorthaired Pointer, German Wirehaired Pointer, Golden Retriever, Gordon Setter, Irish Red and White Setter, Irish Setter, Irish Water Spaniel, Labrador Retriever, Nova Scotia Duck Tolling Retriever, Pointer, Spinone Italiano, Sussex Spaniel, Vizsla, Weimaraner, Welsh Springer Spaniel and the Wirehaired Pointing Griffon.

Let's see your portrait work in photos, paintings, pastel, pencil, charcoal and mixed media. Any dog not in the sporting group category will be eliminated.
Submission Rules
Each participant may submit 10 images.
Voting Rules
1) You must be a member of Pixels.com in order to cast votes in this contest. Your account must have been active at least 30 days prior to the start of the contest in order to vote.
2) You may only vote once per image.
3) You may vote for as many images as you like... but only once for any given image.
Contest Timeline
Status: This contest is over.
Submissions Begin
Monday, February 10th, 2020 - 9:59 AM
Submissions End / Voting Begins
Saturday, February 15th, 2020 - 9:59 AM
Voting Ends / Prizes Awarded
Tuesday, February 18th, 2020 - 9:59 AM
Current Time (Eastern United States)
Tuesday, February 25th, 2020 - 5:23 AM
Contest Prizes
This contest will be awarding the following prizes:
1st Place:
Featured on the Home Page
2nd Place:
Congrats for being so good
3rd Place:
Knowing your work is recognized