This contest is over. Click here to view the winners!
Contest Rules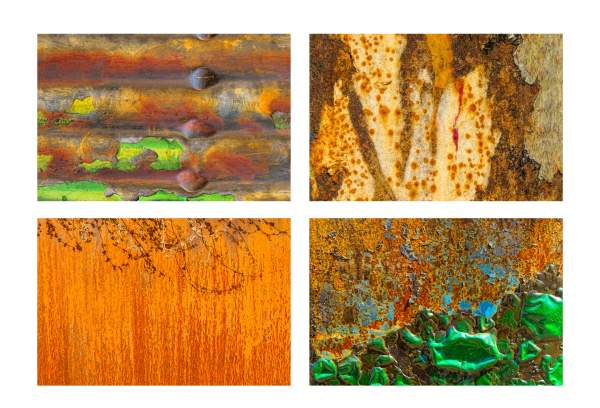 This challenge features close-ups and detail images of things with rust on the surface.

PHOTOGRAPHY ONLY.

This is fascinating subject with lots of scope - rust can be found on door knobs, walls, equipment, storage bins, in all kinds of areas. Rust comes in many colours - gold for new rust, bronze, to dark browns.

The focus is RUST - the details of its textures and variations on surfaces.

NO LANDSCAPES - no sky, no shore, no trees, no houses in a landscape, no buildings in the landscape, no cars in a field landscape, no rusty barn roofs from a distance, no farm equipment set in a landscape. No rooms filled with furniture with rusty walls.

No companions in the images like flowers, birds, leaves that share the image story. We are focusing on RUST itself. The group focuses on the surface and textures of things only.

No people - they are not rusty. They distract from the appreciation of the details of rust itself.

No black and white image of rust - this is hard to moderate.

Show us your best images that showcase the surface and texture that has rust!

If you like this contest, please join this group!

Please refer to the collage for examples.

The moderator can remove images from the challenge at any time.

Submission Rules
Each participant may submit 1 image.
Voting Rules
1) You must be a member of Pixels.com in order to cast votes in this contest. Your account must have been active at least 30 days prior to the start of the contest in order to vote.
2) You may only vote once per image.
3) You may vote for as many images as you like... but only once for any given image.
Contest Timeline
Status: This contest is over.
Submissions Begin
Tuesday, March 24th, 2020 - 9:28 AM
Submissions End / Voting Begins
Sunday, March 29th, 2020 - 9:28 AM
Voting Ends / Prizes Awarded
Wednesday, April 1st, 2020 - 9:28 AM
Current Time (Eastern United States)
Thursday, April 9th, 2020 - 2:09 PM
Contest Prizes
This contest is just for fun. The prize is knowing that you won... and hopefully introducing someone new to your artwork!