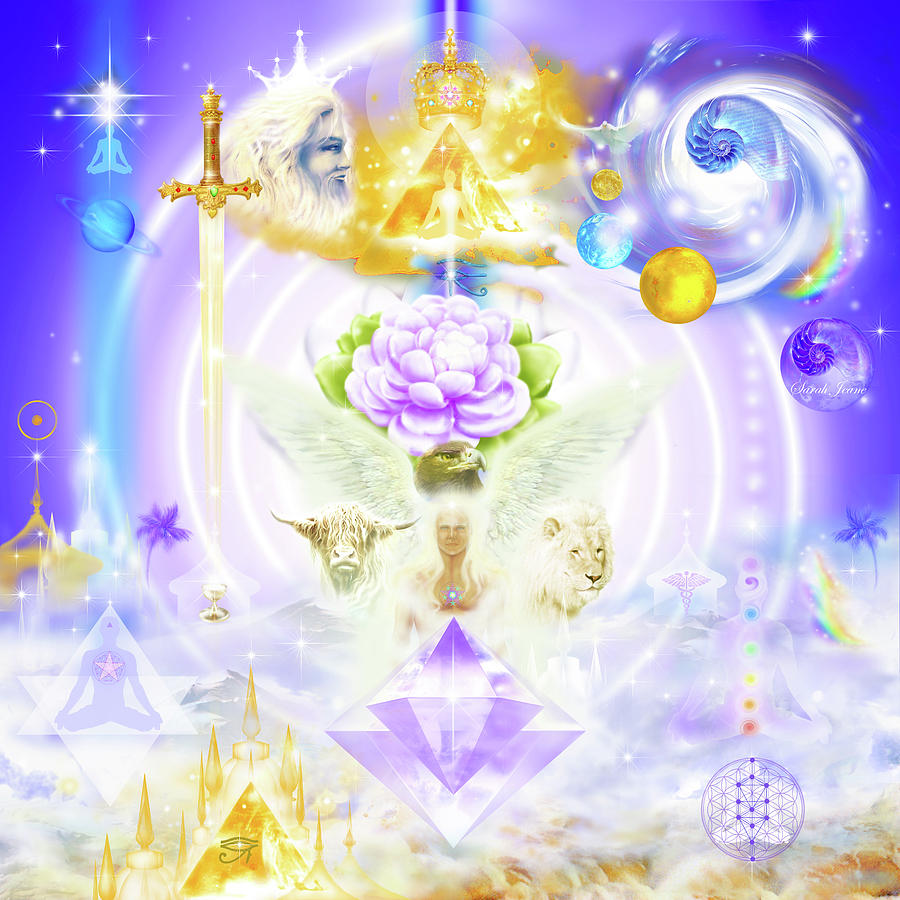 Divine Union is a mixed media by Sibli Sarah Jeane which was uploaded on July 31st, 2018.
Divine Union
DIVINE UNION - Copyrighted Multimedia Art by Sibli Sarah Jeane©... more
Medium
Mixed Media - Multimedia Art
Description
DIVINE UNION - Copyrighted Multimedia Art by Sibli Sarah Jeane©
Mastery of love and communication - Illumination - The Light Body is expressed!
We are receiving the spiritual awareness to embrace and integrate with joy the Divine Living Presence of God allowing all light bodies to be expressed through the Seventh Chakra; from that source all energies are filled with Divine Light. We experience our Divinity.
The Tree of Knowledge and the Tree of Life are activated as "One" in the Fifth Dimensional consciousness—the Garden of Eden is revealed in the oneness of spirit and matter.
Kether or "Infinite" is the Crown of the Tree of Life, the assimilation of all spiritual work and divine knowledge. It is the divine realization of God's Omnipresence, through the Heart, the Seat of the Self, symbolized by the Lotus. Kether represents the beginning of Creation, the gate between the unmanifest and the world being accessible to human consciousness, a process where the four elements are born by the Angels of Kether, the Holy four Seraphim represented in the form of the Bull, Lion, Eagle, and Humankind. Kether represents the Fifth Dimension (5D), Rozia, the Garden of Eden realized. The Alpha Chakra, directly related to Kether, is located about eight inches above the head, connecting all lower bodies, Malchut, the Earthly Dominion directly related to the Omega Chakra, both chakras acting as anchors. Kether is associated with the Planet Neptune and is the Creator of the Violet Ray.

Statistics
Viewed 206 Times - Last Visitor from Beverly Hills, CA on 01/17/2021 at 1:54 AM