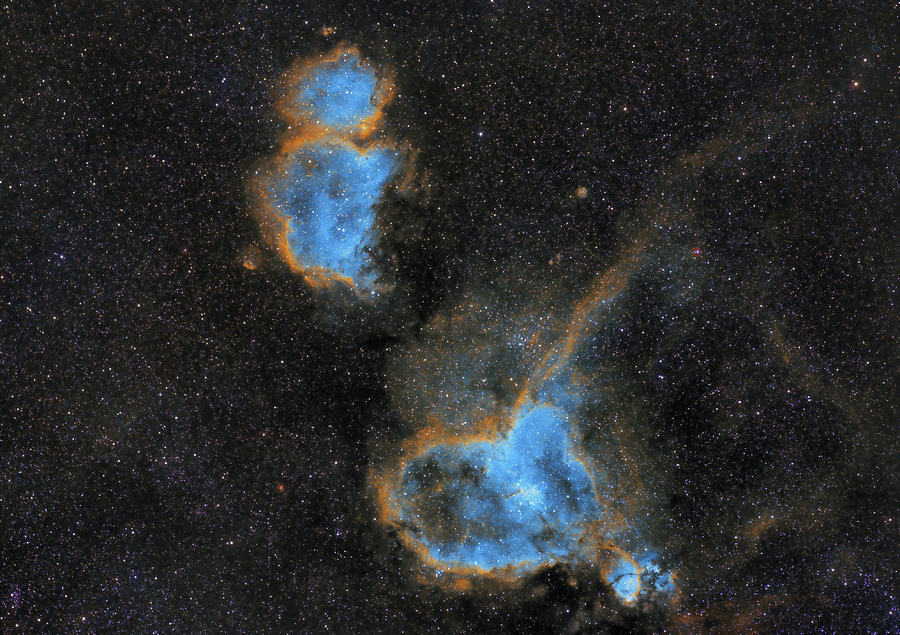 Heart and Soul Nebula is a photograph by Prabhu Astrophotography which was uploaded on November 10th, 2020.
Heart and Soul Nebula
The Heart and Soul nebulae.... more
Title
Heart and Soul Nebula
Artist
Prabhu Astrophotography
Medium
Photograph - Print
Description
The Heart and Soul nebulae.
Located about 6,000 light-years from Earth, the Heart and Soul nebulae form a vast star-forming complex that makes up part of the Perseus spiral arm of our Milky Way galaxy. The nebula at the bottom is the Heart, designated IC 1805 and named after its resemblance to a human heart. On the top is the Soul nebula, also known as the Embryo nebula, IC 1848, or W5. The Perseus arm lies further from the center of the Milky Way than the arm that contains our sun.
The Heart and Soul nebulae stretch out nearly 580 light-years across, covering a small portion of the diameter of the Milky Way, which is roughly 100,000 light-years across. The two nebulae are both massive star-making factories, marked by giant bubbles that were blown into surrounding dust by radiation and winds from the stars. At the bottom of the heart nebula, there is a fish head like structure called The Fish head nebula (IC-1795) or also known as NGC896 features glowing gas and dust in a star-forming area in Cassiopeia.
Uploaded
November 10th, 2020
Statistics
Viewed 8 Times - Last Visitor from Hyderabad, 02 - India on 01/10/2021 at 5:28 AM