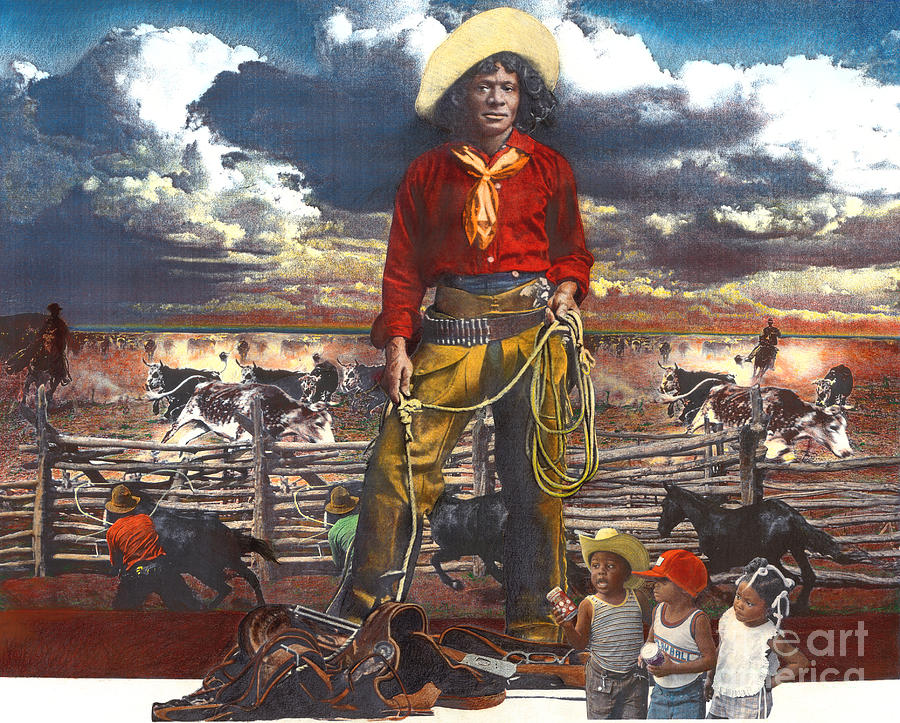 Nat Love And Three Little Cowpokes is a mixed media by Ken Falana which was uploaded on July 30th, 2009.
Nat Love And Three Little Cowpokes
Nat Love and Three Little Cowpokes... more
Title
Nat Love And Three Little Cowpokes
Medium
Mixed Media - Giclee On 100% White Cotton Rag Paper
Description
Nat Love and Three Little Cowpokes

Nat Love and Three Little Cowpokes grew out of my discovery of black cowboys while in graduate school in the 1970s. Dean Meeker, a University Wisconsin printmaking professor gave me a magazine photograph of Nat Love a black cowboy from the late 1800s. He said that he had the picture for several years with the intension of creating a print about black cowboys, but never found a solution to his aesthetic idea and maybe after research I would have use for it. Prior to that time I was unaware of the existence of black cowboys. I did research at the University of Wisconsin library and was surprised at the volume of information that I found but also like professor Meeker, I had no solution. So, I filed the materials away for use at a later date.

In the late 1990s at a St Petersburg, Florida's used bookstore I found a magazine with an article with pictures of a black rodeo in Texas. In the pictures there was one of three little black children at the rodeo talking. This picture was what I needed to complete the image for the collage on Nat Love, Deadwood Dick, later in 2009 I transposed into the mix-media piece Nat Love and Three Little Cowpokes.

About Nat Love

Nearly one in six cowboys was black. Nat Love, born in a Tennessee slave cabin in 1854, was one of many southern blacks that found their opportunities crushed by slavery and the continuation of white supremacy that followed the Civil War. The destitute conditions for black men in the south cause many of them to head west for work, where they were accommodated on the same terms as white cowhands as long as their money lasted.

Love at the age of fifteen rode into the bustling town of Dodge, Kansas, a typical frontier city, with a great many saloons, dance halls, and gambling houses, and very little of anything else. He began work with a trail herd and for more than a generation took part in the long cattle drives that moved Texas beef to Kansas and points north.
Statistics
Viewed 1,797 Times - Last Visitor from Brandon, FL on 03/08/2020 at 12:12 PM