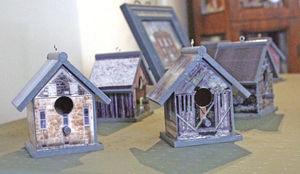 December 12th, 2017 - Benton, MO
Posted: Tuesday, July 18, 2017 12:48 pm

One of the many projects Larry Braun has taken on recently is using his camera to chronicle the historic houses in Ste. Genevieve.

For what final purposes are yet to be determined, but Braun has a couple different options, including one involving birdhouses that he began this spring.

When the Ste. Genevieve Art Guild issued challenges for three-dimensional art for its May show, Braun was stumped for a bit.

"I said, 'I don't make 3-D stuff,'" Braun said.

But he remembered a conversation with a professor at Mineral Area College who wanted to put his photos into a template for birdhouses.

The idea was reborn for that Fourth Friday Art Walk Show in May.

"That wasn't a historic house," Braun said. "That was just one I cobbled together."

But the idea grew to produce the centerpieces for Braun's own show in the June Fourth Friday Art Walk that debuted birdhouses with photos of Ste. Genevieve buildings such as the Rozier Bank building in Merchant, the LaSource-Durand Cabin on the Bequette-Ribault property, the brick cottage on Market Street next to Lions Park and an outbuilding at the Felix Valle House State Historic Site.

See the complete story in the July 19 edition of the Herald.