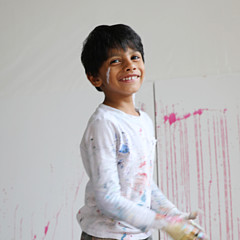 Advait Kolarkar Art Shop
Shop for wall art, home decor, apparel, and more featuring artwork from Advait Kolarkar.
Biography: After taking art world by storm with a radiant show at New York ArtExpo, a solo stint in Canada and now one of the few worldwide recipients of Global Child Prodigy Award, Advait Kolarkar has been surpassed major milestones at the age of six. He has been hailed as prodigy by The BBC and several global print and television outlets, making him one of the youngest artists worldwide. His work ethic and wondrous imagination has caught art lovers attention internationally, who are often thrilled to know that his instinctive journey began when he was just eight months old. He tells...
more