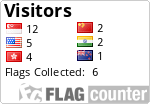 Hello! And welcome!
I'm tickled you landed on my page!
I've always had a need to express my creativity through art; whether it's drawing, paining, faux finishes, or photography. It always gives me great pleasure to create something that brings about a smile to others.
Thanks for visiting! I hope that you found something in my collection that brought you a moment of pleasure!
Whether you purchase or not, I'd love to hear from you.
Best wishes,
Chris
Christine Stonebridge http://christine-stonebridge.artistwebsites.com/
All rights to images remain the sole proprty of the artist and are protected by Copyright � 2010-12 Christine M Stonebridge, all rights reserved. Using images found online for blog postings is a common occurance. If you use one of my images to illustrate your blog, be sure to include a photo credit and link to my page (to not do so is just just rude).
Christine Stonebridge joined Pixels on January 14th, 2012.