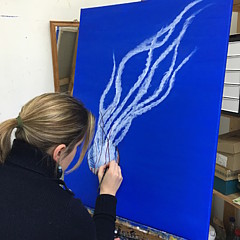 Elisenda Vila Art Shop
Shop for wall art, home decor, apparel, and more featuring artwork from Elisenda Vila.
Elisenda grew up in a little village surrounded by natural landscapes where she started to be curious about the wild beauty. When she was 17 she took part in her first collective exhibition in Barcelona. At 19 she moved to Barcelona where she became a Fine Arts Graduate for the University of Barcelona. After some years dedicated to Archaeology and Museology, she started teaching art and exhibiting around Catalonia. In 2011, she moved to London where she is currently developing her artwork , immersed in a vibrant atmosphere of culture, meeting actors, artists and musicians...
more