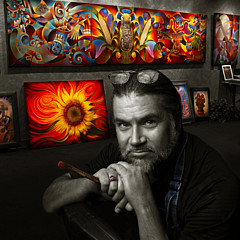 Ricardo Chavez-Mendez Art Shop
Shop for wall art, home decor, apparel, and more featuring artwork from Ricardo Chavez-Mendez.
Born in Torreon, Coahuila, Mexico, self-taught artist, Ricardo Chavez-Mendez moved to Albuquerque, New Mexico at the age of 28. The use of the airbrush for detail in his earlier work has earned him the nickname, 'Dali of the Desert,' by Airbrush Action Magazine, an apt comparison which he relishes. Ricardo is truly an extraordinary artist. Currently he is introducing the art form 'Curvismo' or curvism by way of teaching and gaining a following into the movement. He is the official portrait artist of the Mariachi Spectacular de Albuquerque for the last 20...
more