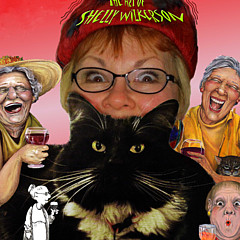 Shelly Wilkerson Shop
Purchase canvas prints, framed prints, and more featuring artwork from Shelly Wilkerson.
Shelly has always felt herself to be a right-brained person in a left-brained world. Thirty of her years has been devoted to planning and scheduling large projects for construction, aerospace, transportation and energy in many parts of the country to keep the rent or mortgage paid and food on the table. For some strange reason, her humor got the best of her and she was always asked to do underground cartoons and caricatures to document events or comical situations. She began her art early when her parents stuck the hyperactive three-year-old in the back of the family car with pad and pencil...
more