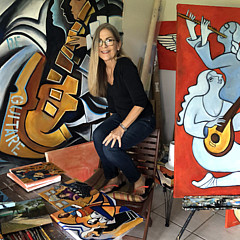 Valerie Vescovi Shop
Purchase canvas prints, framed prints, and more featuring artwork from Valerie Vescovi.
http://www.valvescoviart.com http://www.youtube.com/bleuval Valerie Vescovi was born 1954, in Somerville, NJ. She grew up in Miami and has been a resident of Boca Raton for the last 6 years. Exhibited a natural talent for arts since early childhood and has been painting in oils for 4 decades. The artist has spent her life developing and working in different styles that always remain distinctly her own. She has evolved a neo-cubist style to express her individualized interpretation of the life around her. Her rhythmic compositions are inspired by...
more