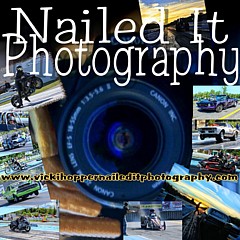 Vicki Hopper Shop - Complete 08-04-2013 Lebanon Valley Dragway Night Of Fire
Purchase canvas prints, framed prints, and more featuring artwork from Vicki Hopper.
PLEASE VISIT MY NEW PAGE: www.vickihoppernaileditphotography.com I am a photo HOBBYIST. No one pays me to do what I do. I enjoy shooting Drag Racing & Concerts and I have been at it for years. When my Dad passed away my mom gave me all his gear and I learned on my own. It took me a long time to cross over to digital. I don't have fancy, expensive equipment & I feel that the photos reflect what 'I' see & feel while I am shooting. Music shows emotion & racing shows adrenaline. In my Esta Safety...
more