I Need Help With A Decision - Children's Book Self-publishing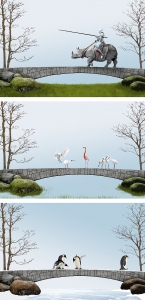 Hi Everyone! I need some help and I have no idea where else to ask this, so:

I started to draw a new series about a month ago: 12 images capturing an old stone bridge at the edge of a forest. My concept was that while the viewpoint remains the same the setting/season of the scene changes a bit/lot in every image as the characters (mainly animals) come and go and do different things. I was in the middle of preparing the first sketches when I realized that the whole project is basically an illustration series to a children's book, because behind each image I have a story/tale in my head. And I started to think about writing that book...

And now I'm stuck because I like the idea a lot but I'm not sure if I want/can carry it through. Writing would be a challenge, but I'm pretty confident I could do it well and have a lot of fun with it (not in English, but in my native language - Hungarian), so that's not the problem. I researched a bit and I'm aware that my only option to print the book would be self-publishing. It would take a lot of extra time and energy, some money to fund at least a few dozen copies (even with POD) and - of course - if I'd like to actually sell the book to readers I have to do all the marketing myself.

I thought first I complete the drawings and will decide about the book later, but while pondering all this I realized that I can't really progress with the images without the decision - the composition of some of the scenes changes when I look at them as illustrations for a tale and not as purely visual works. In some cases, the book-version feels less 'complete', I'm not sure how they would work/sell as standalone images.

I know that a lot depends on the images and the stories, so I uploaded three very rough drafts, just to show the concept.

The first one is about a knight in armor who flees from a museum because he's bored and wants a mission, he meets the rhino in the woods and after some verbal and physical conflict he decides to join the rhino in guarding and protecting the forest and its residents.(The forest is under a spell, only animals and some magical creatures can enter - through the bridge - and it's also a kind of refuge for animals escaping from captivity or a circus etc.)

The second one is after a huge storm that temporarily turns the meadow at the edge of the forest into a wetland. A group of young spoonbills are happily dabbling and feeding on fish when a flamingo turns up and confuses them with the explanation about his color, until an older spoonbill arrives and sets everything straight.

On the third one, four penguins get sight of something orange under the bridge while crossing. They start to argue about what it is, three of them agree it must be the goldfish frozen in the ice (he swam up from the lake after the storm and had his 'one wish moment' with the bear in one of the previous stories/images), and they have a lengthy discussion about what they would wish. The fourth penguin is a consistent non-believer, he says the goldfish doesn't even exist and what they see is only a fallen leaf...

Do you think kids/parents would be interested in these kinds of stories? Is it worth to put the time and energy in?

Does anyone here have any experience with self-publishing?

I would really appreciate any kind of input that helps me to decide....